"Old soldiers never die, they just fade away." General of the Army Douglas MacArthur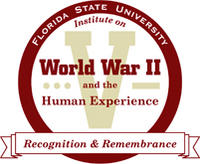 Though something of a cliche by now, this phrase of General MacArthur's reinforces a singular fact of current history. The generation that fought World War II is gradually dying off and, unfortunately, much of the history they represent is not being systematically and professionally preserved. As we enter the new millennium it is of prime importance that not merely the artifacts and official histories be maintained, but that the experiences of the millions of men and women who fought in this "Good War" be kept alive for future generations.
One of the major sources of materials relating to World War II that has not been fully and methodically preserved and developed are the personal papers, letters, diaries, and memorabilia collected by the veterans. All too frequently these items are undervalued not only by the families to which they are left, but even by the veterans themselves. Between their modesty relating to their personal achievements and a diffidence in asserting the worth of their memorabilia these irreplaceable historical materials are being misplaced or discarded.
Despite the enormous literature on the campaigns of World War II, its impact on the individual participant has not been thoroughly investigated. The daily life, the physical and emotional suffering, the experience in the field, in short the personal experiences that bring History to life are all too often overlooked or downplayed. The major focus of the Institute on World War II and the Human Experience is research on and preservation of materials relating to the molding and survival of the individual in World War II. The emphasis is on the experiences of ordinary men and women, military and civilian alike, amid the pressures of wartime life.
The Institute on World War II and the Human Experience has as its goals the following:
the collection and preservation of diaries, letters, memorabilia, and comparable materials relating to the everyday experiences of the participants in World War II;
the archiving and preservation of those materials;
the collecting of oral histories to enhance the archival collection;
the indexing and presentation on the Internet of the Institute's collections;
research by students and faculty and others;
visits by the general public and especially families who have donated items;
exchanges both within the United States and with the foremost institutions of this sort in the countries of the major World War II participants;
talks offered by the director and staff to civic groups and WWII reunions.
ORGANIZATION
The Institute is supervised by Dr. Kurt Piehler a specialist on U.S. History with a emphasis on the Twentieth Century. As director Dr. Piehler has the responsibility of coordinating the Institute's various activities with archives, museums and research centers throughout the world as well as participating in the FSU Foundation's fund raising activities. The Institute's archive is housed in Bellamy, adjacent to the University Library.